Happy Wednesday! If you're looking for today's giveaway- come back in a little while. I promise that another one will be posted today! In the meantime, feel free to check out the first two giveaways from the Season of Giving:
Monday's Giveaway: Jamberry Nails
Tuesday's Giveaway: KIND Healthy Snacks
For now, I've got a whole truckload of photos to share from last Saturday (which was pretty much a perfect day!). Keeping with the WIAW theme, you'll also see what I ate throughout the day.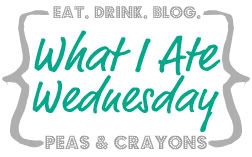 It was SO nice to sleep in and not really have anything on the agenda for the morning. Greg and I made breakfast and chatted about what we wanted to do that day.
I had FlapJacked Apple Cinnamon waffles (with fresh cranberries!) with a little cottage cheese in the middle and some Coconut Secret syrup on top.