It's another Wednesday, my friends- the first of February! Today marks exactly one week until I turn 34. How is that even possible!? Wednesday also means two other things: I'm spending the day rocking the slopes at Ski School and about to share a day of eats with all of you wonderful readers.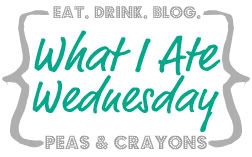 Today's post shows meals and snacks (and beer…) from last Saturday, which started out with some skiing at Eldora! Though I was excited to get another day of skiing in, I wasn't exactly looking forward to the crowds. On top of being a weekend day, it had snowed the night before which meant total chaos on the slopes! I decided to make the best of whatever I was faced with and just get a few runs in and have a good time. I've been so spoiled by only skiing on weekdays when I basically have the slopes to myself!
I made some Swiss oats in a peanut butter jar to take along in the car on the way up to the resort. It usually takes about an hour to get up there, but with the snow and extra traffic I knew it would take a bit longer and I'd have plenty of time to enjoy my breakfast in the car.
I added some peanuts on top, which made these oats extra awesome.
It ended up taking an hour and a half to get to Eldora and it was already packed when we pulled up. We had to park way over in the north lot, which meant that we had a bit of a hike to get over to the main lodge where we met up with some friends. Hiking in ski boots while carrying skis = crazy workout! After getting a few runs in (which took about twice as long as it would on a weekday) Jenn and I headed back into the main lodge for some beers and to meet up with our husbands. Eldora has a great selection of local beers!