Happy Wednesday!
First of all- thanks so much for all of your sweet, thoughtful comments from Monday's post. I really appreciate each and every single one of them and can feel the love and positive energy. Here's a quick update to my current situation: I went to an orthopedist on Monday. He did a number of tests to feel for certain ligaments and to rule out specific things and almost everything looked good. But, he couldn't "feel" my ACL, which usually means it's torn. He wasn't 100% positive that that's the case, but wanted me to come back and see him in two weeks to reassess. The weird thing is- when I went to the Urgent Care center on Friday, the nurse could feel it. I'm kind of hoping that since my leg was so much more swollen at the orthopedist that maybe that was a factor… but I don't really know. Luckily the other ligaments are definitely not torn and apparently my strong quads (thanks to five years of teaching Spinning) were helpful in the injury being less severe and will be helpful in recovery. When I go back in two weeks, the doctor will do the same tests and if he doesn't feel my ACL then I'll get an MRI and go from there. I'm keeping positive- what else can I do?
In the meantime, I've spent a lot of time sitting on butt with my left leg elevated and my knee iced. The swelling has gone down a bit each day and I've been able to walk a little better and put weight on my left foot- but I'm definitely nowhere near 100%. Not being even able to walk one of the dogs outside (let alone- work out or do anything else active) has been killing me, but I have no choice. I've been doing some upper-body strength-training and core work that doesn't compromise my knees at all, which is better than nothing!
Anyway- speaking of sitting on my butt- that's pretty much all I did last Sunday. Though the day certainly wasn't exciting (and was a mix of watching movies and catching up work stuff), I chose to document the meals anyway! Truth be told, I didn't actually think of taking my WIAW photos until after breakfast, so you get a stand-in for that meal:
This is actually a photo taken a few days before, but my breakfast that morning was pretty much identical (minus the almond butter): FlapJacked Cinnamon Apple crepes stuffed with apples and cottage cheese. Now that I've successfully figured out how to make crepes I can't get enough of them!
After a few hours of sitting, elevating and icing, I got off my butt and made a quick and easy lunch:
A bowl full of red cabbage (sauteed in olive oil, balsamic vinegar, dijon mustard, mustard seeds and garlic salt) and shrimp. I go through red cabbage phases every now and then and have been on a kick for quite a while now!
Greg came home from skiing (sigh) a little later and we shared a bowl of popcorn.
I like to pop plain popcorn and add my own seasoning. This time it was coconut oil spray and sea salt. YUM.
When I got hungry a little while later, I made a smoothie with almond milk, vanilla egg white protein and PB2:
It was literally gone in under a minute!
For dinner that night, Greg whipped up something delicious! He grilled elk steaks and veggies and I had mine on a big salad (with avocado!):
Of all red meats, elk is my favorite. It's followed closely with a three way tie between grass fed beef, bison and ostrich.
For dessert, I've still been trashing it up (thanks for that term, Marisa!) with ice cream that probably contains all kinds of artificial crap… I've just been turning a blind eye.
I blame Kelly for my recent Skinny Cow obsession. Damnit- they're delicious!
Cross your fingers for me that I will be off my butt by the weekend and at least able to walk like a normal person….and go check out the WIAW fun!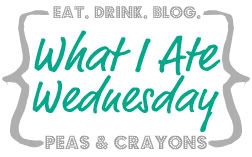 Have a great day!
Do you eat Skinny Cow (or similar) desserts? What's your favorite?