Good morning!
I have a love/hate relationship with being out of the house all day. While I love to go out and do stuff and have fun- I'm really just a homebody at heart. Plus, as much as I like eating out, I definitely prefer to cook in my own kitchen over going to a restaurant. Saturday was one of those days where I didn't have a single meal at home.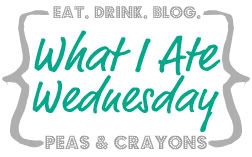 A typical Saturday for Greg and me includes sleeping in, making a big breakfast and heading out to do something fun for the remainder of the day. Ski season has thrown a bit of a wrench in our "sleep in on Saturday mornings" routine- and as much as I love to ski- I am definitely looking forward to not having to wake up so early on weekends when it's over.
Alas, the last few weeks of ski season are here and we're trying to enjoy it as much as we can before putting our equipment away for the next 8 (or so) months. The great thing about Eldora resort is that it's so close that we can go up there for just a few hours and not feel like we spent the entire day driving. We woke up bright and early Saturday, threw all of our gear in the car, grabbed some coffee and protein bars and hit the road.
I'm a big fan of these CORE bars by PRO BAR. They keep me fuller than most other bars and taste delicious. That, along with a homemade soy latte, is a typical "car" breakfast for me.
Eldora wasn't very packed at all- which is strange for a Saturday! It was a sunny (but windy) day and the snow wasn't the best (it was icy!) but we still managed to have a good time.
We skied for about three hours, had some great runs and then left to make our way back down to Boulder. I had brought a bag of Perky Jerky for Greg and I to share during the ride- this flavor is delicious!
Greg and I ran a few errands quickly once we got into Boulder and then grabbed lunch. I had suggested Illegal Petes since neither of us had been there before- and Mexican food and beer sounded delightful.
Oh. My. Word. This was delicious! I got a salad with pulled pork (and guac!) and an O'Dell Levity. This place is definitely way better than Chipotle!
Post-lunch included a few more errands, and then we headed over to John & Tiffani's house for dinner. Tiff had made some kale and zucchini chips that we snacked on pre-dinner (and I didn't think to take a photo until there were just a few left!).
Dinner was refreshing and simple: salads with grilled chicken, beets and avocado!
We had brought over dessert, which was frozen yogurt from Boulder Chill and various toppings:
Boulder Chill has this delicious stuff called Dream Delite which has 8 calories per ounce. I turn a blind eye to the fact that it's probably full of crazy chemicals and artificial crap that will kill me- but it tastes SO DAMN GOOD and you can eat a whole cup of it for 64 calories (and use the rest of your calories for junky toppings!). When you eat organic 95% of the time, I think it's fine to throw some crap in there every so often.
Have a fantastic Wednesday!
UPDATE TO ADD:
The winner of Paige's Bootcamp Giveaway is:
Congrats to the lovely Brittany! We're going to be bootcamp buddies!
Email me at lauren@meandthemountains.com for details!
What do you typically eat for breakfast when you're "on the go?"