Last Saturday was one of those crazy days where I found myself running all over the place from the time that I woke up until I went to bed. Regardless of the day being a bit hectic and busy- it was super fun and I got to spend some time with a bunch of great friends! Usually Greg and I designate Saturday as the one morning of the week for "sleeping in," but we got up relatively early to meet with our realtor to look at houses. (I know that it seems like we just moved- but we rented our house out here for a year to figure out where we wanted to buy- and that lease is up May 1st!)
I whipped up a quick breakfast of toast, scrambled eggs (with ham and hot sauce!) and kumquats. I also had a small smoothie made with JAVAPRO (instead of coffee).
We were out looking at pretty much every single house available in the towns we want to live in- which isn't a whole lot. The inventory is super low out here (which is great for the sellers- not as great if you're a buyer!). We got back home with about 45 minutes to spare before I had to head back out to attend the Fairlife blogger event, and I made myself a salad with a hard-boiled egg, avocado and chicken for lunch- and ate a few handful of this popcorn before making myself put the bag away.
I also had a few pieces of this delicious jerky from a package that the folks at KRAVE were nice enough to send over.
That lunch made me full. I totally forgot about the fact that I was heading out to do yoga – and a full stomach + yoga = no bueno. Luckily, the yoga was pretty nontraditional and everything seemed to get digested in time.
After the yoga class, I tried some samples of Fairlife milk and one of the smoothie recipes:
(Photo from Tiffany)
I got back to my house with just enough time to change and head right back out the door- this time to meet up with Paige and a bunch of other friends at a brewery in Lafayette.
We planned to grab dinner at The Post Brewing Co., which I had heard excellent reviews for but we were informed that there would be a 90-minute wait (when we put our names on the list shortly before 6pm!). We all thought it would be worth the wait and headed down the street to Odd13 Brewery in the meantime. I knew that I'd want to try some of the beers at Post, so I just ordered a baby beer (and tried a few sips of Paige's and Greg's!)
After spending about an hour and fifteen minutes at Odd13, we were super hungry and headed to Post to see if a table was ready yet. It wasn't- and we waited. And waited. And waited.… Finally, around 8:30 (over two hours after we put our name down) we got a table! We were all HANGRY but didn't want to leave since we had waited so long!
We immediately ordered a round of rosemary buttermilk biscuits:
And that was followed by a second round….
I sampled a few different beers:
And browsed the menu. It's definitely "down-home" cookin'! Not really my style, but who doesn't love comfort food?
I ordered the wood-fired pork shoulder as my entree:
It came with pickled cauliflower (which was delicious!) The pork shoulder itself was good- but more than half of it was just fat and not edible. Luckily, Greg had ordered a plate of fried chicken (which was like four pieces!) and he shared a few delicious bites. Fried chicken is definitely the thing to order there!
We also shared some sides: Brussels sprouts (cooked in butter and sage!!), roasted beets with goat cheese and collard greens:
I wasn't crazy about the collard greens- but the other two sides were delicious! I was so full that I barely made a dent in them and had plenty for leftovers.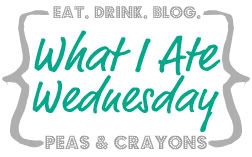 Have a great Wednesday- don't forget to enter to win your own Magic Bullet blender from the Fairlife giveaway!
What's your favorite comfort food?