Hello, friends!
Man- it's been a rough week so far. I haven't been feeling 100% ever since Monday afternoon and am really trying to find some motivation and energy! Maybe I'm just ready for spring (which begins tomorrow!). Speaking of Monday- it was St. Patrick's Day- and for the first time in a long time, I didn't do a single thing to celebrate! No beer drinking, no corned beef and cabbage… not even a shamrock smoothie…
Luckily I drink those year-round, so I didn't really miss out by not having one on Monday.
Monday was just one of those… days. The best part of my day was actually spending the morning with one of my bosses, talking about marketing plans and strategies (and beginning to lay out a calendar for the rest of the year). I am so excited about my new job- and it feels really good to be able to say that!
Here's where my calories came from on Monday: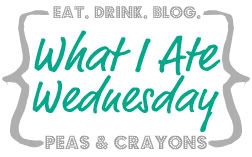 I hit the gym bright and early for a shoulder workout (with a little bit of cardio), but sadly hadn't prepared any of my normal frozen FlapJacked pancakes that I usually eat before exercising. Luckily, I had made some "balls" over the weekend, so I ate one of those for a little bit of fuel.
These were made up of a mixture of almond butter, protein powder and dried coconut. I got the idea from my talented friend.
When I got back home (a hot, sweaty mess) I quickly whipped up some Banana Hazelnut waffles with cottage cheese.
I think that the waffle/cottage cheese combo is one of my all-time favorites. It also keeps me full for hours!
When lunch time rolled around, I headed back to my house and made some broccoli and "cheese" fritters (along with some leftover chicken).
I had been thinking about those fritters for weeks- and just kept being too lazy to make them (even though they only have four ingredients!).
I also make a smoothie of almond milk, frozen strawberries and banana:
And throughout the day, I snacked on these addictive almonds:
I have practiced great self-control to not devour the entire bag!
I had started feeling kind of icky later in the day, but hadn't lost my appetite. For a late-afternoon snack, I had some Elli Quark topped off with my new favorite (high protein) granola:
I had planned on making dinner later on, but was feeling crappy and knew that wouldn't happen. Greg came to the rescue and went out to pick up some Pho, the best "sick" food of all time.
I get the same thing every time: Pho Ga (chicken) with steamed broccoli. Damn, it's good.
Dinner was followed by a couple of Quest cookies:
That's 1/2 of a Double Chocolate Chunk Quest bar with chopped up almonds, baked for a few minutes. I promise it's delicious!
So, even though I didn't really celebrate St. Paddy's Day, I still managed to eat a few green things.
I do think that some corned beef and cabbage (and beer!) are still in order though…
Have a wonderful Wednesday!
What are your favorite St. Patrick's Day foods?