Every once in a while, you eat a meal so great that when you state "that was the best meal I've ever eaten!" it's not an exaggeration. I've been lucky enough to have two of these meals since moving to Colorado last spring. Both meals were so delicious that I can still describe the variety of textures, flavors and wonderful emotions associated to each and every bite. I have to give a world of credit to Chef Hosea Rosenberg and his catering company, Blackbelly Catering and Upslope Brewery for giving me the opportunity to experience not one but two incredible evenings of delicious food and craft beer.
My latest culinary adventure with Chef Hosea was this past Thursday. It was a meal so beautiful and so perfect that I felt compelled to share it with as many people as possible (as I'm sure you saw on my Instagram feed if you follow!). Today's WIAW post features the Winner's Circle Beer Dinner with Blackbelly Catering and Upslope that took place last week. Warning: a million photos are about to follow…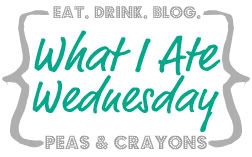 Thursday was a long, exhausting workday full of teaching Spinning and meeting countless deadlines, but knowing what was in store for that evening definitely got me through! When it was time to get ready to go out, I changed out of my uniform of Lululemon crops and a hoodie and put on my finest grandma-esque sweater (that also happens to match the curtains in my bathroom).
What can I say? I know good fashion.
The dinner itself featured various beers that had won medals at GABF over the last few years. Each beer was carefully paired with ingredients that would compliment its flavor, and some of the dishes even used beer as an ingredient! Because we were so blown away by the last Blackbelly/Upslope dinner we attended, Greg and I went in with high expectations and excitement!
Poor Greg was feeling super ill (and spent the entire next day in bed!), but rallied to come out to the dinner. I think it would have taken not being able to physically walk for him to miss this dinner! Upon arriving at Upslope, we were led off by the hostess to greet Chef Hosea, whose beard has grown to an out-of-control status!
For some lucky reason, we were on the "VIP" list and got to enjoy some special appetizers and chat with Hosea before the dinner got started. I've met Hosea a few times now and he is the coolest cat ever- very friendly and funny. I'm pretty sure we're besties by this point.
We snacked on various cheeses and this incredible mahi mahi ceviche:
Ohhhh this ceviche. Mahi mahi is not a fish that I gravitate towards, but I loved it in this ceviche! I made a mental note to recreate this recipe asap (and I already have- you'll see it tomorrow!).
We also sipped on beer, of course. An Upslope IPA for me!
Our wonderful friends Brock and Melissa had also gotten tickets to the dinner and were like kids on Christmas Eve!
The Blackbelly crew had set aside a space in the brewery to prepare the various courses and hors' d'oeuvres that we would be eating that evening.
One after another, the hors' d'oeuvres starting rolling out! The first bite I tried were these pistachio and truffle crusted grapes (please forgive me Blackbelly Catering for butchering the descriptions of any of these beautiful hors' d'oeuvres!):
It's funny- this was the only hors' d'oeuvres that I failed to get a photo of at the last dinner and was so glad that they brought it back! YUM.
Other delicious hors' d'oeuvres included raw beet tartare on a leaf of endive:
Cucumber, smoked salmon and creme fraiche:
And my favorite, duck confit with moustarda on a cracker… (super blurry!)
After trying not to completely fill up on hors' d'oeuvres, we were led on a very quick brewery tour Sam, the head brewer at the brewery's Lee Hill Taproom.
I gotta hand it to Sam- even though learning about the brewing/canning process is fascinating- he knew that we were all ready for more food and beer!
Our lovely table:
When I laid eyes on the menu, my heart skipped a beat. Everything looked incredible and I couldn't wait to be presented with each dish!
The first course was paired with a Belgian Pale Ale:
The dish: Beer Brined Quail (brined in the same beer it was paired with!), hopped cavatelli, heirloom carrot, local honey:
Oddly enough, I think that was the first time that I ever tried quail- and I'm a fan! It was fun to watch Brock and Melissa's reactions as they took their first bites- they were so happy!
I made a conscious choice to only have a few sips of each beer for two reasons: I have no tolerance and get a hangover if I have more than two (full) beers and if I drank all that beer, I wouldn't have any room left for the food!
Just like last time, Chef Hosea came out to present and describe each dish. I loved hearing him talk about each preparation! Sam also described each beer pairing and told us why it was chosen.
The second course was paired with Pumpkin Ale:
The dish: Spiced Mahi Mahi, curried Isabelle Farm squash, pepitas, pomegranate:
As I stated above, I don't have a great love for mahi mahi- or at least I didn't until this meal! This was my favorite dish of the entire night and I had to hold myself back from licking the bowl clean!
The third course was paired with Brown Ale (which is arguably my favorite beer that Upslope brews):
The dish: Blackbelly Farm Pork Belly & Sausage, buckwheat, barley, cabbage, apple:
I thought that this dish was super creative and loved the addition of the barley! The sausage was the only thing that I didn't love, but the pork belly more than made up for that. Just look at this beauty!
Mmmmmm.
I failed to get separate photos of the beer pairings for the final two courses- it had gotten super loud and exciting in the dining room by this point!
The fourth course dish: Blackbelly Farm lamb loin, smoked tomato, fennel, merguez spices. Beer pairing: 5th Anniversary (oooh so delicious!):
The lamb was super tender and flavorful- but I was smitten with the fennel on top!
By the time we got to the fifth course, we were all feeling like we were almost hitting a wall. Even though each dish was small, it was still a lot of food! We all somehow found more room in our stomachs when the fifth course was presented: Chocolate Stout Cake, blood orange custard, cocoa nib & oat streusel (beer pairing: Foreign Stout):
Once again, Chef Hosea has proven me wrong when I say that I don't like chocolate cake. This was super dense, rich and everything that a dessert should be! I loved the orange/chocolate combination and the oat streusel was to die for. It was the only dish that I didn't finish every bite of, but that was only because I simply ran out of room in my tummy!
The beer aftermath:
Oh, it made me so sad to leave all of those partially filled glasses, but what can you do?
Even though all of the food and beer was absolutely perfect and incredible, my favorite part of the night happened after dinner when Chef Hosea came over to chat with us. We all chatted like old friends, from reality tv to skiing to dating (I, of course, asked him if he's single because I have a friend I would love to set him up with…). It's definitely great when your culinary hero is so cool and down-to-earth, despite having every reason to have a big head from winning Top Chef Season 5!
If I had to compare the two beer pairing dinners, I'd give a slight edge to the first one back in July- but only by a little. Both were flawless and still rank high on my "top 5 meals of all time" list. All in all, it was an unforgettable evening complete with my favorite combination: great food, great beer and great friends. I'm already looking forward to the next pairing dinner!
Have a great Wednesday- don't forget to enter this awesome giveaway!

Can you remember the best meal you've ever eaten?