Good morning!
Because I know that you are SO curious about the weather here, I'm happy to report that the arctic freeze is over and we're enjoying a heat wave with temps in the 40s! I'm just glad to be able to spend more than five minutes outside without my hands and face going numb.
It was still pretty cold this past Monday, which is the day that I chose to photograph my WIAW eats.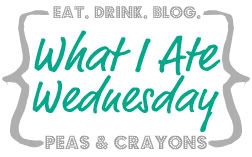 I woke up early, worked out, got cleaned up and hit the road. I had planned ahead the night before since I knew I'd be in a bit of a rush in the morning and filled an empty peanut butter jar with a protein muffin, plain 2% Greek yogurt, cranberries and sliced banana. After all of the sugar I had eaten the day before, a sweet breakfast was really the last thing I wanted, but it was easy to eat in the car.
The first order of business was to meet up with my friend Katie (and Adrienne!!) for some Blend-related stuff (since I am now filling her shoes as the third woman on the planning team). We took care of everything we needed to and then enjoyed some coffee and conversation over at Panera. And this little girl with the cream cheese mustache thoroughly enjoyed her bagel.
Love these two girls!!
After spending a lovely morning with those two, I had to head over to do a work demo at Whole Foods. I do demos for work about once a week (sometimes more, sometimes less) which consist of giving samples of a few different flavors of our bars and granola. At the end of the demo, I had a sample of a Pomegranate Blueberry Pistachio bar.
It had been a few months since I had had this flavor and it was so good!
One of the disadvantages about doing a demo at Whole Foods (or pretty much any of the other stores that I work in) is that I always want to shop. I needed a few things, but definitely got some other items that weren't on my list. I also got some lunch from the salad bar in the form of mixed greens, veggies, tuna and hard-boiled eggs (and of course, a side of Kevita).
I had to do a few more things for work and errands after that, and was a little hungry again by the time I got home. I heated up some bison meatballs from a few nights earlier and broccoli from the night before. It was a pretty weird snack- but it certainly tasted good!
After that, I retired to my home office to do some work for a few hours and sip on some Candy Cane Lane (mixed with Silk).
I had been thinking about making a certain dish for dinner ever since I saw a friend post something about making turkey pot pie on Facebook. Since Greg and I had roasted our own turkey a week ago, we still had plenty of leftovers. I have never made a pot pie in my life, but figured it couldn't be that hard! I just combined some pearl onions, peas, carrots, celery, chopped up turkey and gravy (I cheated and used this) in a pot and let it cook for a bit. While that was on the stovetop, I placed a few pieces of phyllo dough in a glass baking dish and let it bake. Then, I poured the contents of the pot into the dish and placed a few more layers of phyllo dough (brushed with melted butter) over the top. After about ten minutes, it was ready to eat!
I have to say- for completely winging it, I was very impressed with how delicious this was!
I also decided that I need to make pot pies far more often.
After dinner, I had a little bit of cottage cheese mixed with peanut flour and topped it off with some Lily's Chocolate Chips.
Greg and I also shared the latest beer from our Beer Advent Calendar (which we brought back this year!) and had a cookie from Sunday.
I've also decided that I can not have Christmas cookies in the house. Even though I think I'm sick of them, I can't stop!
What have you been snacking on lately?