If you ask any number of people what they consider a "detox" to be, you'll get a number of different answers. For some, it's a cleanse (whether it's juicing, drinking water mixed cayenne pepper and lemon or taking a number of supplements). For others, it could simply mean no alcohol or sugar. For me it means a few specific things: water, veggies, fiber, fresh air and more WATER.
After a day of standing on my feet for nearly 12 hours, drinking beer, eating too many KIND bars and having pizza for dinner at 10:00 at night, I woke up Sunday feeling not so hot. I immediately chugged down two of these:
Isn't Jackson the cutest photo-bomber ever?
I continued drinking water all throughout the day and felt better with each and every sip.
Breakfast was delicious.
I mixed 1/4 of FlapJacked Buttermilk pancake mix with 3 T. of coconut flour (FIBER!), 1/4 c. pumpkin puree, some egg whites and pumpkin pie spice. This made two perfect waffles which had Greek yogurt mixed with more pumpkin puree sandwiched in between (remember, I'm making up for lost time!).
After eating (and drinking lots of water and coffee) Greg and I headed into Boulder for some fresh air and hiking.
Afterwards, we ran into REI to see if there was anything either of us wanted to use our member coupon for and then over to Whole Foods for some grocery shopping. We were pretty hungry by that point and grabbed a bite from the salad bar.
This was a combination of lots of mixed greens, various veggies, chicken, quinoa and sunflower seeds. I swapped out water for Kevita to change it up (especially since I had about another liter of water during our hike!).
Later on in the afternoon I had a snack of the rest of a banana that was in the fridge and some Justin's Maple Almond Butter (the best!!).
And later on in the evening for dinner:
We put some flounder filets in a foil packet along with olive oil, lemon, salt and pepper and let it cook on the grill. On the side are a sweet potato and roasted Brussels sprouts and green beans.
Dessert was simple and perfect.
My last Attune Mint Chocolate bar from HLS! Man those were good.
I've been on a roll ever since Sunday… let's see how long this healthy eating this streak continues!
Be sure to check out the WIAW party on Jenn's blog: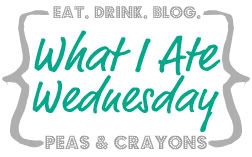 Have a rockin' Wednesday!

How do you "detox?"