By now you're probably sick of hearing about my epic (yes, I said epic!) hike last weekend. I promise that I'll move on and talk about other things after today! For now, I'm going to focus on one of the most important aspects from an all-day hike: the food! I know I'm not the only one that knows the importance of hiking snacks- make sure you check out Heidi's awesome commentary on the video.
Whenever I'm doing a long hike that requires leaving the house super early in the morning, I start preparing the night before.
My hiking snacks of choice: Buffalo jerky, carrots (which didn't get eaten), KIND bars (to share) and a Chia bar. For something more substantial I packed my absolute favorite hiking lunch ever: peanut butter and jelly. I love Whole Foods' Hemp 14er bread and it holds up really well in a backpack for several hours. I used a new (to me) brand of peanut butter (which is my new favorite) and the last bit of concord grape jam that Cassie had made (sad face- I wish I had 10 more jars!).
We left at 7:00 in the morning to meet at the Guanella Pass upper parking lot at 8:30. I had prepared some Swiss oats in an empty peanut butter jar (pretty much my standard long hike breakfast) the night before and ate them in the car.
This kept me full for quite a while and when I did get hungry I snacked on some buffalo jerky and candy that Heidi and Lynne had brought (which was an assortment of peanut M&Ms, Swedish fish and mini Twix and Almond Joy bars).
We stopped for lunch and I broke out the big guns:
Does that picture look familiar?
Our lunch time view was pretty sweet!
We hiked for several more hours after that and I drank about 2 1/2 liters of water throughout the adventure. When we finally made it to the end, we were all tired and hungry. The original plan was to drive to Idaho Springs and go to BeauJo's for pizza but the wait was about an hour long. We made the choice to head up the street to Tommy Knocker Brewery instead (where the wait was just 15 minutes!).
I had one thing on my mind: pumpkin beer!
This photo is actually from a few weeks prior, but looked much better than the one I took on Saturday. Not only is Tommy Knocker's pumpkin beer delicious- they put brown sugar and vanilla around the rim! Holy smokes!
For dinner, there was one thing that jumped out to me on the menu right away: a bison burger!
It came with sweet potato tots (and Heidi gave me a few of her garlic fries to try). That burger didn't stand a chance- it was gone pretty soon after!
We headed back home after that, and I would've really liked to have stopped for ice cream but it was already so late. Instead I made due with what I had at home: some cottage cheese and peanut butter.
One great thing about hiking for 9 hours is that you need to replenish calories (I estimate that I burned an extra 4,000-5,000!) so you can go to bed feeling good about the beers, burgers and fries.
Make sure you head over to Jen's blog to check out all of the fantastic WIAW eats!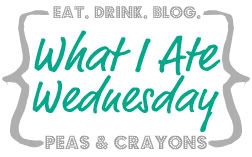 AND- make sure you check out my Taste Test giveaway- have a great day!
What's your favorite meal to eat after a long hike/run/workout?