Happy Wednesday everyone! Hopefully you are all having a fantastic week so far. It's only going to get better from here on out, right? It's been a little cooler here this week (but is supposed to be back in the 80s today) and the sun has been shining brilliantly. We got snow out west so the peaks are beautifully capped with a white dusting. I really can't complain!
I had some pretty delicious dinners over the weekend and wanted to share all three with you today (starting with Sunday and working backwards).
Sunday's dinner was inspired by Tiffany telling me about the quinoa meatballs she was going to make (the recipe is on her blog and is on my list!). I made my own with quinoa but used buffalo instead of beef and kept the spices on more of an Italian theme. Since I'm obsessed with my spiralizer, I served the meatballs over a bed of zucchini "spaghetti" and marinara sauce.
The meatballs were made with 1/2 lb. ground buffalo, 1/4 c. dry quinoa (which was then cooked), 1/4 c. each shredded zucchini & carrot, 1 egg, 1/3 c. breadcrumbs, 1 egg, oregano, garlic, salt and pepper. I baked them for about 20 minutes at 350˚.
Rewind one day further- here's Saturday night's dinner:
This was inspired by my EYE OPENING tour of Whole Foods that morning! I made dinner using some of my purchases from that day including grilled King Salmon (with a citrus rub), steamed spinach and black lentils with mocha bacon. I can not tell you how delicious the bacon/black lentil combination is – I want to eat it for every meal!
And that leaves us with Friday night. We usually stay in and make pizza on Friday night's but decided to go out for dinner on Pearl Street Mall in Boulder. Greg hadn't been to Salt before (I went with the other Silk bloggers back in June) and we were able to get seated right away (outside even!). We started with some charcuterie and cocktails and each ordered an entree. As soon as I saw striped bass on the menu, that was it.
It was served with squash and farro and it was perfect! The photo isn't the best because it was dark out, but let me tell you- the plating was gorgeous.
Have a fantastic Wednesday!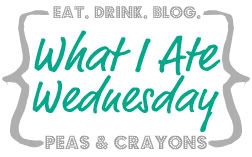 Do you "plate" your meals (to try to make them look pretty?