I had a big "ah-ha" moment last week: I've got a major sweet tooth. This isn't exactly new news because I've been a fan of ice cream, cookies and desserts in general since I was a little kid. I certainly indulge in sugary treats from time to time – just not every day. To me, a life without sugar would just be sad. I think I do a pretty good job of balancing out high calorie treats with healthy food (and only eating "real" dessert 1-2 times a week) but I got to thinking a little more about my sweet tooth recently. What I concluded is that "sweet" foods are a trigger for me. When I eat something sweet (whether it's sweetened by sugar, agave, stevia or anything else), I have a hard time getting the signal to my brain that I'm full.
I started thinking about how the foods I generally eat on any given day balance out between sweet and savory. Up until recently 99% of my breakfasts were sweet. Lunch and dinner are savory, but pretty much every snack I eat is on the sweet side too. Something I noticed: the majority of "healthy (convenient) snacks" on the market are on the sweet side (bars, yogurt, etc.). When I want to eat something quick for a snack, I generally whip up a protein muffin, eat some yogurt (with stevia) and granola or grab a protein bar. My snacks end up being larger than I really want because they seem to just make me want to eat more. And I have to consciously tell myself to stop and wait for my stomach and brain to connect with each other to say "okay… you're done!"
I was talking to Paige about some savory snack ideas last week and she told me that sometimes she'll eat something that would normally be considered as the protein in "a meal" for a snack. Even though it's probably the same amount of calories as a typical snack, I never really think of eating a piece of chicken or other meat as a snack- but it definitely could be!
I made a list of different savory snacks ideas while I was on the plane on Sunday, which included: eggs + avocado, celery w + peanut butter, turkey rolled up with Romaine lettuce, a handful of Rotisserie chicken, hummus + veggies, tuna + Greek yogurt and spinach pancakes. I'll be slowly making my way through these snacks over the next two weeks!
I decided to do a little experiment with what I'm eating (and cutting down on the amount of "sweet" that I eat) to see if anything changes. I was able to give up my gum chewing addiction (almost 7 months and going strong, baby!) and recently became a savory breakfast convert, so I think anything is possible.
Here's my eats from Monday:
I started out the morning by having a little bite of banana w/peanut butter and then did something that I never do anymore: I went for a run. It was just under 20 minutes, but I still ran the whole time without feeling like I was going to die (running at high altitude ain't easy!). After my short run, I did an hour of Bodypump (in my basement- practicing for the release of 87!). After that, I made my absolute favorite breakfast in the world (that I could easily eat for all three meals):
Two (local) eggs, toast, avocado, cherry tomatoes, mushrooms and sauerkraut. Check out my coffee- I used a frother (my favorite item from the HLS swag bag) to make it fancy.
Also, check out this avocado. It was huge!
I'm not sure which variety it is- but it wasn't nearly as tasty as the smaller kinds I usually get.
After breakfast I put the ingredients for dinner into the Crock Pot and set it on low:
That's 1.5 lbs of pork loin chops, a packet of Carnitas Slow Cook Sauce (I'm forever in debt to Ashley for introducing the Frontera sauces and marinades!!) and some chopped up onion. It cooked for about 9 hours making the house smell delicious.
Lunch that day was a little different. I had purchased some brown rice wraps the day before and was excited to put them to use! I made spring rolls stuffed with tofu, carrots, red cabbage, cucumber and a sauce made from Bragg's Liquid Aminos + peanut flour.
I also had some Fage 2% plain Greek yogurt with some cereal that came in my HLS swag bag (Erewhon Buckwheat and Hemp).
Normally I don't keep cereal in my house (it's a trigger for me!) but this isn't one that I just want to just go and grab handfuls of all day long. It's not sweet tasting at all (kind of nutty actually) but tastes great on top of yogurt!
Later on I made myself a quick snack of celery two ways:
Again, I'm fancy right? Celery two ways.
The "two ways" were with hummus and natural peanut butter (separate- not mixed together).
I also enjoyed a little tea time with a cup of my favorite: Bhakti Chai (unsweetened concentrate with almond milk).
And yes, it was a little fancy.
I had been smelling my dinner cooking in the Crock Pot throughout the day so when dinner time rolled around I was ready to dig in!
I made some "fluffy" tortillas using cornmeal, egg whites and coconut flour- they were awesome! The tacos were made from carnitas, avocado, onion, tomato and topped with Greek yogurt (roasted squash on the side).
And for "dessert"- cottage cheese with (thawed) frozen mixed berries and peanuts.
I got just a little sweetness from the fruit, and it was the perfect way to end the day.
I definitely had the urge to snack less throughout the day, but I don't know if that had anything to do with cutting back on sweet flavors at all. (It easily could've been the fact that I was being more mindful!) As I've said before: now if I can just keep it up…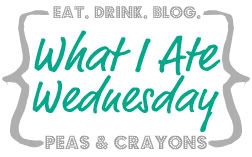 ONE MORE THING! The latest KIND giveaway winner is…
Congratulations Mike!!! Please email me at lauren@meandthemountains.com for details!!
Have a great day!
Are certain foods "triggers" for you (and if so, what)?