Hey there! How's your week going so far? Mine is great- and I'm excited to leave for Minneapolis tomorrow to attend and speak at the Healthy Living Summit. Maybe I'll see you there?? If you missed my KIND giveaway from yesterday's post- please make sure you check it out and enter. I will personally hand-select the box of treats that the winner receives and trust me- it's going to be good.
This past Sunday was one of those perfect Colorado days. It was warm, sunny and that made for a great day of hiking with friends. Even though we had been out late (for us) the night before, Greg and I still managed to wake up around 7:00 am so that we could get an early start. We packed up our backpacks (including lunch for later) and headed up the road to meet up with Paige and Shane. On the way, I had breakfast in the car: Fage 2% yogurt, sliced banana and fig (yum!), KIND Peanut Butter granola and a little protein muffin made with FlapJacked Banana Hazelnut mix.
Even though I've been on a savory breakfast kick lately, I definitely enjoyed this little change-up. It also kept me full for a long time.
I consumed about 1.5 liters during the hike and when we reached the summit around noon, we all enjoyed lunch with a gorgeous view.
My lunch was also gorgeous!
I alternate between packing a peanut butter and jelly sandwich or turkey with veggies on toast- both are equally delicious and taste incredible at the summit of a mountain! When I pack this particular sandwich, I put the toast in a baggie and the turkey and veggies in a separate container with an ice pack and assemble it when I'm ready to eat. It works perfectly every time!
We made our way back down and I had an apple in the car during the long ride back. By the time that Greg and I got home around 3:30, we were hungry again. We shared a bag of this popcorn:
This is basically just popcorn kernels in a bag, so we add melted coconut oil and sea salt. YUM.
I also had some KeVita!
Greg and I were both looking forward to dinner that night. He had marinated some sirloin steak overnight and we grilled it up (along with shrimp, bell pepper, onion, mushroom and Hatch chilis) to make fajitas!
I made some guacamole too and just could have easily eaten a bowl of that for my dinner.
We took an after dinner walk around the lake in our neighborhood (something we're trying to do every night) and then I made myself a little "dessert" bowl:
It's not pretty- but it was delicious! That's cottage cheese mixed with (thawed frozen) wild blueberries, some Justin's Vanilla Almond Butter and Annie's Bunny Pretzels. The sweet and salty combination is divine.
One last thing- be sure to head over to Peas and Crayons and wish Jenn a big CONGRATS on the birth of her beautiful baby girl chickpea!!!!!!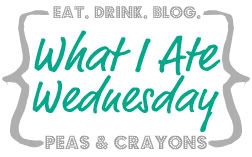 Have a SUPER Wednesday!!
What's your favorite type of sandwich?