Happy hump day, friends! If you haven't already – go check out this COOL giveaway from a GoodPop!
Last weekend I hiked my fourth 14er- Quandary Peak!
Hiking at 14er is a whole different ballgame than going on a day hike around Boulder. The elevation here is around 5,300′ which seems low in comparison to the 14,000+ feet at the summit of these very tall peaks. Most of the hikes start above 10,000′ and there is a considerable difference in the oxygen at that elevation. There's also a big difference in how much energy it takes to just walk up the street! I like to wear my heart rate monitor when I hike 14ers to see just how much harder my body has to work (and how much energy it's using). Just take a look at my stats from my hike to Quandary Peak:
I can't remember a time that I've ever burned over 4,000 calories in less than seven hours. That's just crazy!
Unfortunately, with the way my body works and metabolizes food, that doesn't mean that I can just go eat a 4,000 calorie meal. But,  I do know that it is important to stay fueled and replenish when my body is working that hard. The night before the big hike, we did a little carb loading at Pug Ryan's brewery.
There were also burgers and fries… but apparently I only cared to photograph the beer sampler.
We woke up at 5:00 the next morning to get an early start on the hike. Since the trailhead was a few hours away from home, we stayed in a nearby hotel the night before. I brought a nearly empty peanut butter jar and the ingredients to make some Swiss Oats for breakfast.
This is a great balance of carbs, healthy fats and protein and I knew it would have some staying power for the hike. It did!
I had packed some snacks for the hike- beef jerky, trail mix, apples… but wasn't really hungry for anything until we reached the summit 3 1/2 hours after starting on the trail. (I'm pretty sure that the massive amount of water I was consuming was keeping me full!) I had a bite of beef jerky, but held out for "second breakfast" at the summit. As per tradition, we enjoyed peanut butter and jelly sandwiches- and this was made on Whole Foods "Hemp 14er" bread! I couldn't resist picking it up.
PB & J seriously tastes better at 14,000′!
The other part of our summit tradition- a can of local craft beer!
As much as I'd like to say that I drank this whole sucker, Greg and I actually shared it. I have a pretty low alcohol tolerance as it is and downing a beer at 14,265′ isn't a great idea for me.
I also ate some trail mix and got enough fuel for the grueling hike back down. Because of the steep decline and loose rock, the hike back to the trail head was almost as tough as it was on the way up! When we finally made it down to the bottom (about 2 1/2 hours later) we high-fived, hugged and headed on down to Breckenridge for lunch at Empire Burger.
Since we were all pretty ravenous by that point, we ordered some chips, salsa and guac to share (and celebratory beers of course!)
I really love Empire's fish tacos, but at that point all I really wanted was something cold and fresh with tons of veggies. A cobb salad (sans blue cheese- ICK) did the trick.
Bacon, egg, avocado and tomato… please stay together always!
It was about 2:30 by the time we had lunch and we all left the restaurant stuffed. When Greg and I got home that night we snacked on popcorn and frozen yogurt and probably a few other things (I was in a daze and can't remember- guess I should've taken pictures!).
It was such a fun, memorable day and I can't wait until we hike our next 14er (and I get to enjoy another PB&J at 14,000′!).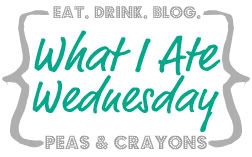 Have a wonderful (tasty!) Wednesday!